Message by Principal
"You educate a man; you educate a man. You educate a woman; you educate a generation."
(Brigham Young)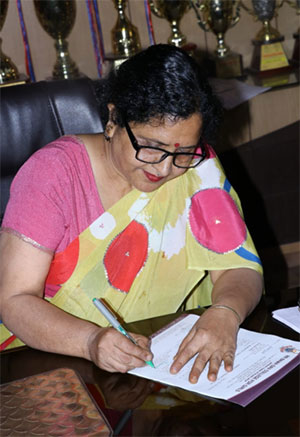 Women education in India plays a very important role in the overall development of the country. It not only helps in the development of half of the human resources, but in improving the quality of life at home and outside. Thus, empowering women is of pivotal importance in any society, state or country.
RR Bawa DAV College for Girls, Batala enshrines and espouses this objective to keep itself in sync with the ultimate goal of the institution, i.e. to carry out the holistic development of women comprehending in its folds- physical, mental, emotional, professional and intellectual aspects. With a motive to achieve and support this Herculean task of women education, we have credited the institution with eight post graduate subjects and a wide variety of Diplomas and Certificate Courses in addition to all regular courses in Humanities, Sciences and Commerce streams. To structure our college a highly professional one, we offer women-oriented curriculum, such as, Cosmetology, Fashion Designing, Diploma in Beauty & Fitness and Computer Education.
On the whole, we aim to equip and prepare the 'Girl Power' to be brave, brilliant and eagle eyed to face the multiple challenges and possibilities of the future ahead. It is rightly said.
"No Country can ever truly flourish if it stifles the potential of its women and deprives itself of the contributions of half of its citizens."
(Michelle Obama)
Best of luck for the new academic session.
Mrs. Shabnam Prabha
Officiating Principal