Blessings by Principal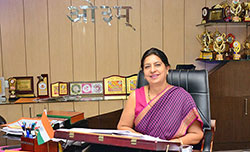 Our primary objective is woman education. We treat woman as a wonder of the world,capable of achieving the unachievable, surmounting the insurmountable, and winning over what is taken as something huge Herculean. Normally, it is considered that behind the success of every man there is a woman, a bulldozing force of higher motivation and when she comes to garner something for herself, can she ever lag behind? In fact, a woman is success incarnate.To inspire a woman to hit the target in life, RR Bawa DAV College for Girls Batala has taken upon itself the cudgel. With a motive to open up an unabridged and vast vista of knowledge, we have credited the institution with eight postgraduate subjects and a wide variety of Diplomas and Certificate courses in addition to all regular courses in Humanities, Science and Commerce streams. To structure our college a highly professional one, we offer women-oriented curriculum, such as, Cosmetology, fahion-Designing,
overlapped with computer education. The day is not fa when this gender will hoist a flag of commitments and accomplishments unhampered. Therefore, Girls: Always fly high by employing the invisible wings the Almighty has graced you with. Best of luck for the new academic session!
Prof. Dr. (Mrs.) Neeru Chadha
Principal