Message by Principal
*ukjh lektL; dq'kyokLrqdkjk*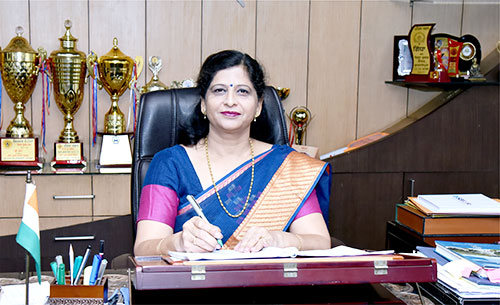 With a tribute to this golden accolade to womanhood, I would like to write a few words as a prologue for our creative and consolidated efforts which have made us capable of achieving the unachievable, surmounting the insurmountable and winning over what is taken as something huge and Herculean task in our 'A' Grade NAAC accredited institution, which is bound to scale the heights of infinite success.
With the commencement of the academic session 2022-23, the institution has opened the portals of perfection for all the young and dynamic aspirants aiming at perfect academic and professional excellency along with a tryst with technology. By integrating technology into existing curricular teacher and students can be in sync with the incessant re-structuring principles of Arya Samaj with the fast moving times.
With our most cherished motto *lk fo|k ;k foeqDr;s*, we have taken pledge to liberate women from the shackles of ignorance while empowering them to flourish through the tech-savvy education, which aims at creating competent, confident and independent world class – professionals with a futuristic vision of being an environmentally conscious institution by promoting 'bio-diversity' and following cardinal principal of reduce, reuse and recycle, with the mission of 'Go Green' in the college campus.
We, here at RR Bawa DAV College for Girls, Batala, are determined to impart value added and value based education to enable our young achievers not only to touch the existing zeniths, but also to create the newer ones, by focusing on self-actualization and exploration amidst the diverse opportunities. I agree with 'G.D. Anderson' when he says :
"Feminism isn't about making women stronger. Women are already strong; it's about changing the way the world perceives that strength."
Dr. Ekta Khosla
Principal
RR Bawa DAV College for Girls Batala