Message by Principal
*;= uk;kZLrq iwT;Urs jeUrs r= nsork%*A
"Yatra Naryastu Pujyante Ramante Tatra Devata"
Manusmiriti,
3.56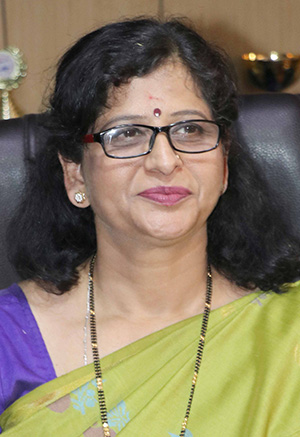 Our Vedic scriptures and hymns glorify the dignity of women, they say, where women are honoured, there the deities are pleased. Keeping these notions in mind, we, at RR Bawa DAV College for Girls, Batala are striving hard to attain the highest parameters in 'Women Education'. To achieve this motto and vision, we'll have to work hard through the nonpareil, stupendous and enormous efforts to carve a significant niche in the fields of 'Women-Education'. Though the entire world is disrupted by some existential issues on account of Pandemic Covid-19 but the life never ends here and we'll have to adopt this 'new-normal' with the help of technology. Online learning opportunities and use of open educational resources will increase the productivity by accelerating the rate of learning during these crucial times.
Moving ahead with the staunch principles of 'Arya Samaj' we have vowed to eliminate ignorance, illiteracy and illusions with dignity and pride. As far as the holistic growth of our institution is concerned it gets confirmed by various progressive programs such 'Skill India', 'Digital India', 'A' grade by NAAC and CPE status conferred by UGC, which stand a testimony in itself. On the whole, we aim to equip and prepare 'Girl Power' to push their limits towards eternity and face the multiple challenges and possibilities of the future ahead.
"Believe you can and you're halfway there".
Theodore Roosevelt
Best of luck for the new-academic session.
Dr. Ekta Khosla
Principal
RR Bawa DAV College for Girls Batala