About College
Our Historic Journey
Founded on the lofty ideals of Arya Samaj and crafted by the Futuristic vision of great philanthropists Mahashya Gokal Chand Ji, Smt. Ram Rakhi Bawa and other great DAV missionaries in the year 1965 under the aegis of DAV College Managing Committee, New Delhi, R.R. Bawa DAV College for Girls is a name to reckon with in the arena of higher education in Punjab, especially in case of women education. Re-accredited with 'A' Grade by NAAC and conferred with the Status of 'College with Potential for Excellence' (CPE) by UGC, the college prides itself in having completed the journey of 50 years of its glorious success and excellent achievements.
Our Mission
Our vision is to "Empower women through Education." The college has a concrete, multilayered strategy to turn this vision into reality.
Our Mission
As an institution, our mission is 'Sa Vidya Ya Vimuktaye' which means 'Education Liberates'
Honors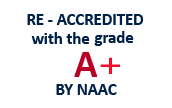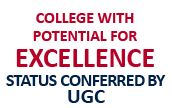 Our Vedic scriptures and hymns glorify the dignity of women, they say, where women are honoured, there the deities are pleased. Keeping these notions in mind, we, at RR Bawa DAV College for Girls Batala are striving hard to attain the highest.
Read more..